Urban routines - just like clouds -
exist without surface
but not without substance
they are

perceptible and affective.


they are

changing form and appearance.


constantly.
collection of

URBAN


dreams

SUBMIT




your active design



conditions of sensibility
20 /21
notions of
civility
20 /21
1. Pick
a place in PDX
2. Dream
an experience
3. Sketch
your dream:
sketch, write, draw, film, sing, dance, bake,...
4. Submit ︎︎︎
shades of
domesticity 20 /21
URBAN DIVERSITY PLATFORM

BY PORTLANDERS
---

A.
THE PROJECT
—-


City design has a huge impact on our lives.
And, EACH OF OUR LIVES HAS A HUGE IMPACT ON OUR CITY. OR DOES IT?

Buildings, streets, parks, public transportation, etc. determine the types of activities, visions, and interactions that can - and cannot - take place within the designed urban fabric. Much of the design in our city is inherited from the society of the past. Some of it is still useful. Some is not.

This project aims to leverage the imagination of Portland residents to envision a city that is designed for all of us and for a future we see possible.

The urban fabric does not encompass all of our urban experiences but rather generates another distinct factor with which it interacts –
our URBAN ROUTINES. Everchanging.

Urban routines anchor identity through the activities within physical urban structures.


Urban routines are ACTIVE FORMS OF DESIGN, which operate dynamically, thus perpetually unfolding divergent types of interactions and potentialities.
Urban routines - just like clouds -
exist without surface but not without substance.
They are perceptible and affective,
they are comprised of infinite elements
changing form and appearance constantly.

ACTiVE CLouD pdx aims to generate a collection of affirmative urban dreams -
as we react to our changing realities!


The goal of this project is to collect and compile the submissions into both ACTIONABLE DESIGN and RECOMMENDATIONS to be presented to the City of Portland.
The City of Portland has developed a new Comprehensive Plan to guide city development and priorities over the next twenty years. The Plan affirms a commitment to incorporating resident feedback.
Take advantage of this offer!
Contribute an active design for the city you want to see:

---
B.
INSTRUCTIONS ON
HOW T︎
—-
The project invites all affirmative guises of dreams about how we live,
move, eat, shop, work, mingle, care, express life to one another:


how we create the perceptible substance of urban interactions.
1. Think of a place in Portland that is meaningful to you


/ as small as a park bench or as large as the city itself
/ public or private
/ somewhere you spend a lot of time
/ walk by daily
/ a place of memories or
/ a moment of fleeting routine
such as leaving home, getting lunch,…
...any moment of stepping into urban mud
2. Dream an experience for this place.

/ what do you wish for? / what do you want to do there?
/ How could it be transformed to better serve you and the community?
/ ONE RULE: be affirmative: we are collecting positive submissions.

We love the city and we hope you do, too. We know there are things that can be better (that's why we are doing this!) but we are convinced that it's best to focus on what we want rather than what we don't want.
3. Sketch, draw, write, collage, film, sing, dance,

bake… your urban dream.


/ we'll take it all!

4. Submit your piece to contact@activecloudpdx.com
---
C.
FEEDBACK
—-
1. We will make our
compiled version
available for review in the beginning of
2021
.
2. Tell us what you think - what did we get right? What are we missing?
3. Support the implementation.
We will provide links to relevant opportunities, such as exhibits, petitions and actions as they

arise. There will be different ways to lend your support, some passive and some active - all of them meaningful.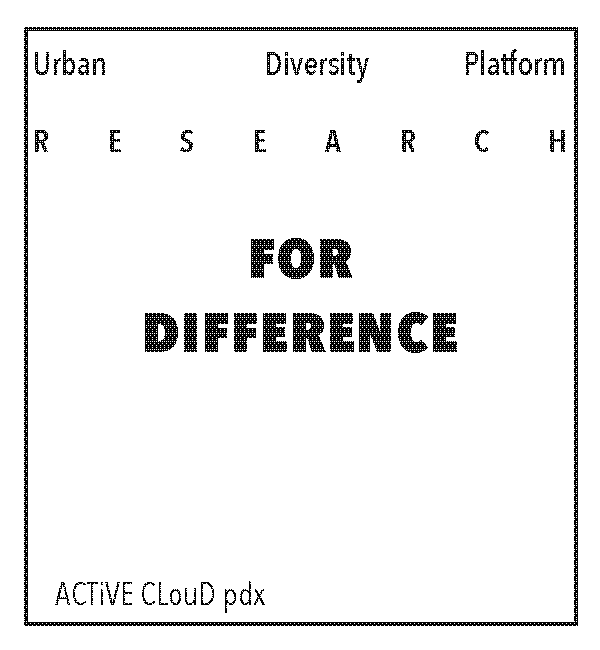 submissions will be shared by fall 2020
URBAN DIVERSITY PLATFORM
INSTAGRAM
EMAIL
---
© ACTiVE CLouD pdx 2019/2020